I had a great night drawing wedding caricatures last night over at Swancar Farm Country House for Colin and Sam's big day!
As soon as I was set up I was whizzing through the drawings – the guests were brilliant and really game for a laugh – it was great!
One of the highlights for me though, was one 'friend'I made for the night… Isla!!
I drew her pic early on in the eve and before long she was 'borrowing' my spare pens and paper and going off to draw – she'd come back every few minutes to show me her pics.
Eventually she came and sat down next to me and joined in with drawing the guests!! It was brilliant and she was so good! I even had other kids joining in too (I might have started my own army of kiddie caricaturists!!)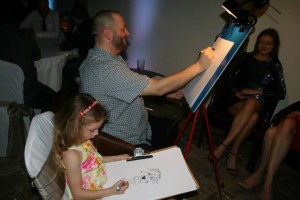 I even got my own caricature drawn and Isla signed it! It is definitely going up in my studio and will be my Facebook profile pic for a bit.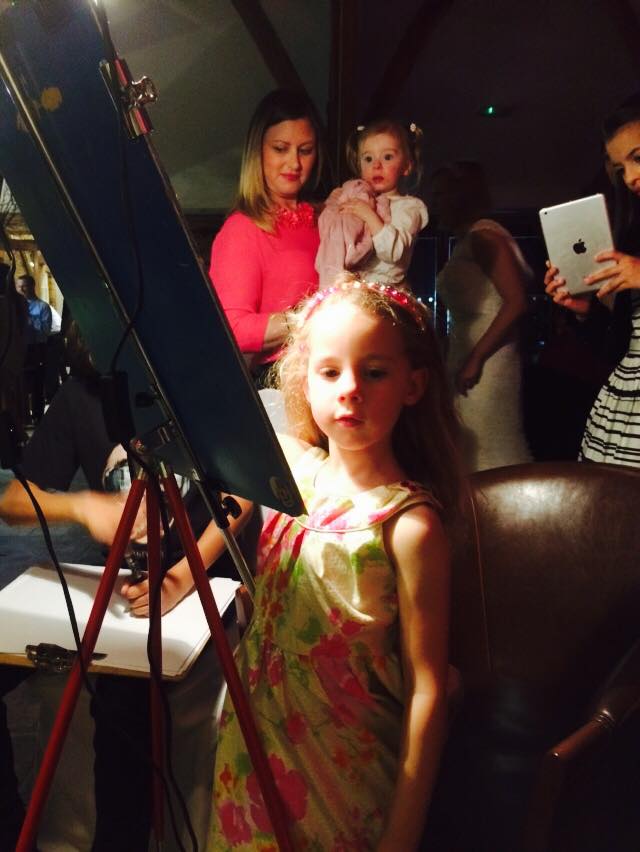 I got a lovely email this eve from the groom, Colin:
"Hi Mark

So sorry we did not get to say goodbye to you before you left but me and Sam just want to say a huge thank you for yesterday. Your talent, professionalism and friendliness was noted by all and the way you let the kids join in was lovely to see. We have nothing but positives to say about you and wish you the very best of luck and happiness in 2015 and beyond

Been an absolute pleasure

 Best regards

 Colin Morris"
All in all, a cracking night for a cracking couple!
Congratulations Mr & Mrs Morris!