A couple of year's ago I attended a wedding of a lovely couple at Kelham Hall in Newark (a very grand venue), and also created a framed caricature of the couple for their big day.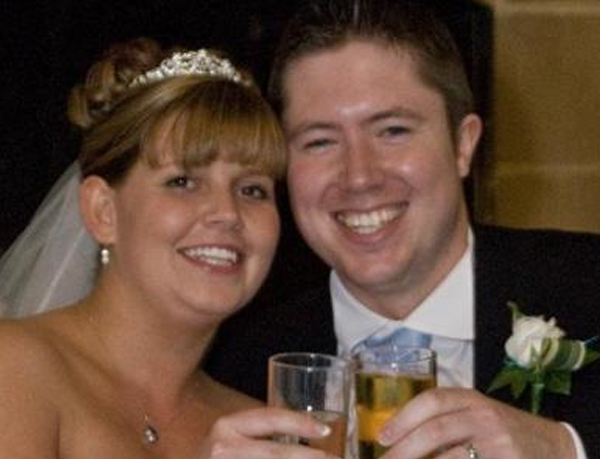 Since I started writing up some of my past customer's experiences of having me come and draw caricatures at their wedding, Rachel got in contact with me via my Facebook page to say she would like to share her story – here it is!
Tell me about how you met, how long you have known each other, how you were proposed to – I want to know your story!
Rob and I met at The Jug and Glass in Edwinstowe, we were friends for a while before we started seeing each other. Rob asked if I would like to go out for a meal for his birthday (as friends) We went to King and Millar in Sutton and the next day 4/9/08 was when we decided to start seeing each other as a couple.
We moved quite fast as I was moving into my own and house and Rob helped loads, he moved in with me in the January 2009 although he was at my house every night before that anyway.
We went to Mexico with a group of friends in the August 2009 and this is where Rob proposed to me. He had it all planned that we was going to go for a walk on the beach and he would pop the question but it didn't quite go to plan, I was tired and wanted to go to sleep so Rob went with the others down to the hotel bar, he said he wouldn't be long. He was gone a long time and I wasn't happy (grumpy tired) so when he did come back to the room, I had a go at him, not knowing he was trying to pluck up the courage to ask me to marry him.
We were on the balcony and my words to rob was 'where do we go from here? I don't know what you want' Rob went inside came back out and got down on one knee and asked me to marry him, I felt so awful that I ruined his planned proposal and still do but of course I said yes and we started planning our wedding straight away.
We decided to marry in August 2011 so it would give us 2 years to save up, but when we got back from Mexico we found out I was expecting our first child Charlie and decided to put the wedding back a year to 2012.
Christmas 2010 I was sat watching one born every minute and was wanting another baby after we got married so we decided to move the wedding back to August 2011 (good job the venue could change the date)
We booked Kelham Hall and was told that a wedding fayre was coming up, we had no idea what entertainment we wanted for our wedding but we knew we wanted something different. I looked at the stalls that were going to be at the wedding fayre and saw that Beefy's caricatures was going to be there and straight away we knew that that is what entertainment we wanted.



Did you know from the start that you wanted a caricaturist? What other entertainment had you thought of?
No, we didn't really know what entertainment we wanted other than the disco. We wanted something a bit different and something more personal.
What homework did you have to do to find the right entertainment for you both? How easy was it? How long did it take you to find the entertainment you were looking for?
It was very easy to find what we wanted when we knew, when we saw Beefy was going to be at a wedding fayre we knew we wanted to book him. Unfortunately Beefy was ill the day of the wedding fayre but I emailed him telling him we wanted to book him and he was brill from the start.
What was you hoping to get from your entertainment? 
We wanted something for the guest to take home as a memento of our special day.
What was your biggest worry when thinking of and booking your entertainment?
Whether you would be available for our date and if everyone would be able to get a caricature.
How did you find me? How easy was it to get in contact? How well did I handle your enquiry?
Through a wedding fayre at kelham hall. it was very easy to contact you through email. you handle the enquiry brilliantly, there was an offer if we had booked you at the fayre and although we was unable to book you there you still gave us the offer which we thought was great.
What were your first impressions? How did I differ from the other entertainment you had looked at? What made you decide I was what you were looking for?
We loved your caricatures and from your emails you sounded a lovely genuine guy. You were very professional and although you had another booking that day you was still able to fit us in which was very kind of you. You made us fell at ease that our guests will be looked after and entertained and we would be able to enjoy the day without worrying.
So, how did it turn out? What made the experience better than you had hoped for?
It was just fantastic, the guests loved the caricatures and was amazed at your fab work! Your emails proved us right and you are such a genuine person and I knew that our guest enjoyed having their caricature done by you.
What have your friends and family had to say? How well did I do for you? Would you recommend me to other friends and family?
Friends and family loved it and thought it was very unique, they were able to take home some fab memories and a little gift thanks to you. I have recommended you on numerous occasions and I will do for years to come. You made our wedding special and lots of guests commented that it was the best wedding they had been to and that you were such a polite gentleman.