A while back I drew caricatures at Nicola and Chris Wilson-Allott's wedding reception and it was one of the most laid back and easy going weddings EVER! I have some great memories of this booking and asked Nicola and Chris to share their story – here it is…
We met during a Christmas night out at Rock City. Chris asked me if I would like to go on a date and we have been together for nearly 9 years!
After being together for 4 years, Chris proposed at the top of the Eiffel Tower during a romantic week in Paris. We celebrated by purchasing 2 glasses of champagne from the champagne bar located at the top of the tower. We saved the glasses and used them during a toast on our wedding day.
Initially we had no idea of where to even start when deciding what entertainment we actually wanted, all we knew we wanted something the guests could really interact with. We found the sheer variety of entertainment options to be quite daunting! We visited several wedding fairs and came away more confused than when we started!
A lot of the entertainment choices for weddings seem to be very expensive and 'samey'; you don't really get a 'personal touch'. The theme that we had for the entire wedding was to be very down-to-earth, fun, laid back and relaxed. Quite a few wedding traditions, such as bridesmaids, best man and speeches, were left out to take away the more formal responsibilities and expectations so that everyone could truly relax and just enjoy the day.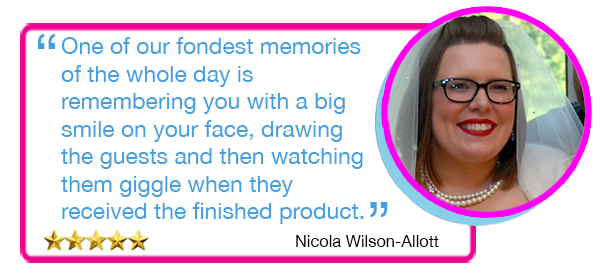 We were very fortunate to hear about you through word of mouth, and on looking through some of your previous work we knew straight away that the caricatures would be a perfect addition to our entertainment. Not only was the caricatures something the guests could take away as a gift, we also thought it would be a fantastic way to get people interacting and having a laugh as they watched the pictures being drawn. The quality of your caricatures are outstanding and looking through some past examples made our decision to hire you a very easy one. The drawings appealed to us because they were both humorous and very accurate.
Contacting you was really easy and we found you to always be very approachable. There were no issues from start to finish and everything went according to plan.
On the night, you came across as being very professional but also very down-to-earth and you put all the guests at ease whilst they were being drawn. You clearly had a great rapport with the guests. One of our fondest memories of the whole day is remembering you with a big smile on your face, drawing the guests and then watching them giggle when they received the finished product.
"Everyone remarked how unusual and interesting it was to have a caricaturist at our wedding. Every guest was curious to see what was going on, and this helped to create a real buzz within the room."
A lot of people have their caricatures framed on their walls, which we see when we visit them and this provides a cute reminder of our day! There wasn't one person who said anything negative.  We cannot thank you enough for the great service you provided and more importantly the contribution you made to many great memories we have of our big day!
If you're looking for something unique for your wedding day, just click the button below to enquire about your date!